Cabinet Designs and Solutions for Full Stock Pantries
Building an ideal pantry solution can be a daunting task for large families, but incorporating specialized storage that promises easy and simplified access to everyday snacks and items can create a more harmonious and efficient maximization of your kitchen. Great kitchen pantries are often times high on a homeowner's list of needs when shopping for a house. These design solutions promise to make your day just a little bit easier from breakfast to dinner and every snack in between.
     1. Open shelving
The ideal solution for those who need to actually see what they have. Open shelving assists in storing the most used and well-loved kitchen items like cookware, utensils, and food while doubling the current space.
     2. Drawers
Adding drawers to your kitchen design is the perfect solution for tucking away linens, appliances, and utensils you may not use on a daily basis.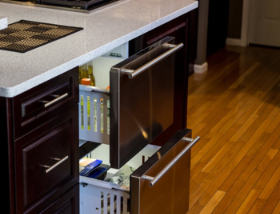 3. Walk-In pantry
Adding a walk-in pantry to your space might seem like a big project but adds more value to your home. They are more practical for large families where storage is easily concealed with built-in shelving for optimal organization.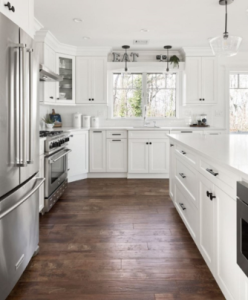 4. Cabinet organizers
By using an organizer like "Link pull out under cabinet organizer" for $59 on Amazon. You can actually create more space within the cabinet with the added benefit of a pull-out drawer.
Link: https://www.amazon.com/Lynk-Professional-Bakeware-Organizer-9-6h-inch/dp/B017Y7BLLS/ref=sr_1_54?dchild=1&keywords=under+cabinet+organizer&qid=1615823705&sr=8-54
5. Lazy Susan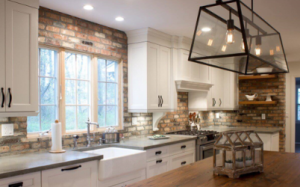 Whether it's built into a corner cabinet or placed directly on the counter, a Lazy Susan turntable offers simple organization and functionality without appearing cluttered.
192 Smithtown Blvd.
Nesconset, NY 11767
T: 631-360-8949